Enjoy flexible and affordable shipping with new LCL weekly direct service from Shanghai to Jakarta.
If you need a flexible and affordable shipping solution that allows you to ship your cargo even when you do not a full container load, LCL (Less than container load) is an essential part of your smart logistics mix. Kuehne+Nagel LCL solutions help you save money, minimise your inventory levels and improve your cash flow.
You can now enjoy the full benefit of LCL on your shipments from Shanghai to Jakarta with Kuehne+Nagel new LCL weekly Shanghai-Jakarta Direct Service with the following features:
Origin Station: CNSHA
Destination Station: IDJKT
Cargo cut off day: Wednesday
Departure day: Saturday
Transit time: 9-10 days
With Kuehne+Nagel LCL, your business will benefit from our global network, container consolidation services and dedicated lanes that enable us to deliver the highest level of transit-time reliability. We offer customised, flexible and efficient shipping that will help you fulfil your promises and meet your targets -including your sustainability goals, as all Kuehne+Nagel LCL shipments are automatically carbon neutral as of January 2020, as part of Kuehne+Nagel's Net Zero Carbon programme which addresses carbon neutrality in transport and logistics services worldwide.
Kuehne-Nagel LCL New direct service from Shanghai to Jakarta is available to book with door to door instant quotation and transparent charges on myKN.
Get your LCL quote today and discover flexible, affordable and reliable shipping.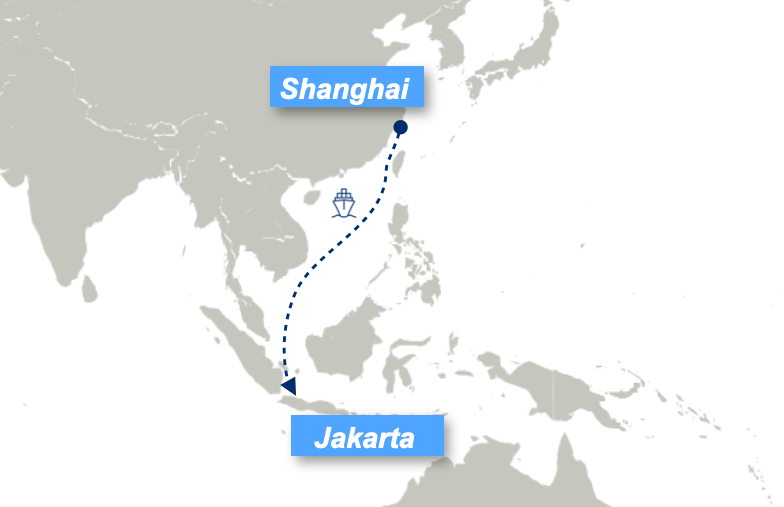 Shanghai - Jakarta Weekly Direct Service